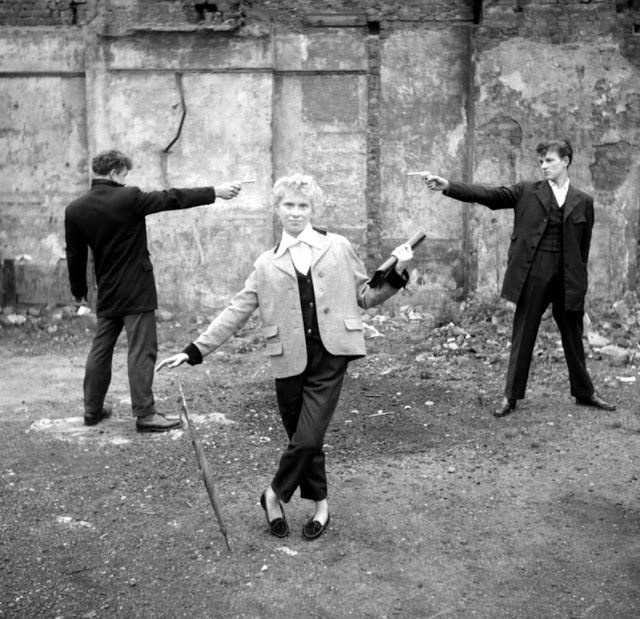 According to the Metropolitan Police, there are approximately 171 gangs currently operating in London. The Center for Social Justice defines a gang as a group of young people who see themselves as a group, usually with an identifying feature, who engage in criminal activity and violence while claiming ownership or control over territory in conflict with other gangs. The members tend to be males between the ages of 12-25 years old and involved in a wide range of criminal activities. The Center also make a direct link with gangs forming in areas with high levels of deprivation, unemployment and lone parent families. They also suggest that the majority of London gang members tend to be Black or Asian. The negative connotations of gangs are apparent, associations with poverty, social alienation and moral degeneracy are reinforced through centuries of historical and literary narrative and latterly, the advent of television and film, the latter of which goes some way to glamorize the gang lifestyle.
But the history of documented gangs in London shows a definite pattern which details both continuity and change. Ever since there has been money to be made in pocketbooks, weapons or drugs there have syndicates which seek to profit – whether it be the highly organized, hierarchical sub-societies or small groups in even smaller geographical localities. Most gangs are more readily identified with sub-cultures driven by music or fashion but they do of course have an obvious economic and political raison d'être for their members. Still, arguably the beginnings of London's relationship with gangs had less to do with hairstyles and garments than it did with abject poverty, the absence of a welfare state and the means by which many survived and died.
One of the earliest documented examples of a London gang came with the Damned Crew, a group of young gentlemen in the late 16th and early 17th century who were famed for staggering through the streets, assaulting passers-by and watchmen while inebriated. In his sermon at St Paul's, Stephen Gosson proclaimed these were "menne without feare, or feeling, eyther of Hell or Heauen, delighting in that title". Leading member Edward Baynham rose from the Damned Crew to fight alongside and become knighted by the Earl of Essex before falling back in with the group and being arrested for brawling, fined £200 and imprisoned.  Baynham would later be implicated in the Gunpowder Plot. It was rumored that all members of the Damned Crew later drowned when a boat in which they sailing had sunk near Gravesend. Later on The Hawkubites terrorized 18th century London by beating up women, children, watchmen and old men in the streets after dark, prompting a pamphlet of the time to compare them to Gog and Magog, depicted in the Revelations as symbols of evil darkness.
By the 18th century an evil darkness had indeed descended on Georgian London. As the city swelled, stinking from plague and fire, it became a desperate and dangerous place to be. No less than 115,000 people were said to be involved in some sort of criminal activity but no one was more feared than The Mohocks. Taking their name from the Mohawk Indians they assaulted both men and women, leading poet John Gay to implore, '"Who has not trembled at the Mohock's name?". Such was the furor that a £100 bounty was placed on their head by the royal court, though unsuccessfully, few were ever caught due in part to their wealthy and well-connected nature. The Mohocks needn't worry, they could buy their way out of any legal action brought against them.
Thief-takers began operating privately in the city, a role similar to that of the modern bounty hunter. These were individuals hired to capture criminals, bringing them to justice and appeasing the moral panic created by the new readership of newspapers. Unlike bounty hunters, who are usually hired by bail bondsmen, thief takers were paid by the victim or their families, often at a pretty price. They became known for their corruption, extorting money from criminals in order to evade capture while also accepting Government-funded rewards for their conviction. Jonathan Wild's story has gone down in Georgian infamy, a man who led a gang of thieves, arranging the 'return' of stolen property and even handing over members of his own gang to be hung at Tyburn Tree, a fate he himself would eventually face after being tried for perjury in 1725.
By 1829 Sir Robert Peel had established the Metropolitan Police force, whose aim was to restore law and order to the city where criminal anarchy and corruption had previously reigned. Known as 'Raw Lobsters, Blue Devils and Sir Robert's Bloody Boys', they were not received well by the gangs of London. But the implementation did force them to become more cunning in order to evade the various pledges for their eradication. Notoriously evasive were the Forty Elephants, an all-female gang who were based in Elephant and Castle, specializing in shoplifting luxury goods from the West End. Working as tightly organized group with outposts across London, the gang would dress in specially tailored coats, cummerbunds, muffs, skirts and bloomers with hats sewn with hidden pockets, raiding and plundering items worth thousands of pounds, benefiting from the prudish notion of women and criminality at the time. Using getaway tactics that involved disposing of stolen goods quickly using trains and cars the women were notoriously clean when stopped by the police. They were also well-known for blackmail, extorting hundreds of pounds from wealthy men as a result of being seduced by one of the Forty Elephants. Known for throwing lively and lavish parties, the later lifestyles of the early 20th century Elephants were glamorous and decadent, reflective of the 1920s aristocratic living of the time.
The 20th century was a fashionable one – or at least, famous for its a la mode approach to culture. Approaching the inter and post-war period, rivalry on London's streets became more about sartorial identification than it had before – confrontation between mods, rockers, teddy boys, skinheads etc. became more commonplace, as did purely territorial conflict. But for those for whom gang warfare remained less to do with scooters or braces it was still primarily about making plenty of money, or indeed enough to survive, during the hardship of Thatcherism. The representations of film and television had little in common with the hardship of the gangs of this economic landscape, leading to incidents of 'steaming', descending on victims en masse to rob, preventing capture or identification and ensuring maximum material gain. This was far from Hollywood's depiction of the finger-clicking West Side Story or the be-leathered T-Birds of Rydell High – it was a landscape of social and economic alienation to whom for some, gangs became the remedy.